Ok, things are busy over here. Ever the glutton for punishment or, as I like to put it, an enthusiastic multi-tasker, I've signed on for several new projects!
The first is the
Gypsy Dreams
blog party, brought to you by Celia from
Adventures of the Striped Stockings
. I've never done a blog party before so I'm pretty excited! I'm busy dreaming and plotting my great Gypsy debut...
Next up, another blog party!
Practical Magic 2011
by
Frosted Petunias
. Cause well, not only do I love the movie, I loved the things that were out and about during last year's party.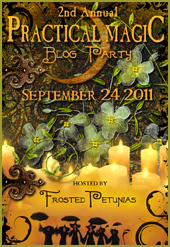 And for those of you who haven't figured it out by now, I'm a big fan of the yoga. Big fan. But I hurt my knee a year ago during
Nia
and have gotten really out of shape. Now it's time to get off my lazy butt, get back in shape and back on the mat! However, after a brief stint back at Nia and also at
Zumba
, I decided that while it was time to head back to my yoga practice, I wanted to take things slowly and not commit to a full hour and a half class yet, or work in a group at the class pace because I need to be taking time to check in, position properly, and take care of my injury. And I know that in a class I tend to push in order to keep up with others. So for now, I've commited to an online practice (which feels a bit counter intuitive to me but I'm giving it a go because it feels like the right thing for me, right now). So far I'm enjoying it.
And last, but not least, I'm working on a Halloween Album with prompts from Ali Edwards! I have great plans for this album and am already thinking of ways to modify and make it grow for a more pagan friendly context. Oh how the ideas abound...

What about you? Are you working on any great new projects that you're dying to share? I'd love to know about them because let's face it, I love projects! (I'm such a glutton for punishment).